Held near the 20th anniversary of IUVA, the 2019 IUVA World Congress was a one-of-a-kind event that took place in Sydney, Australia, Feb. 10-13. It was the first time the conference was held outside of Europe and the Americas. Congress Chair Professor Kumiko Oguma and her committee members organized a technical program that covered an array of UV technology topics.
The congress started Sunday with a lively workshop on advanced oxidation moderated by Oguma and Professor Ian Mayor-Smith. The conference officially started the next morning and included two and a half days of technical sessions led by Oliver Lawal, the current IUVA president. The presentations covered topics, including advanced oxidation, UV LED applications, validations, UV disinfection, technology trends, food and beverage, and many others. "It was exciting to see the expanded topics in the technical sessions," stated Lawal. "There were very interesting discussions on UV LED, food and beverage, healthcare, water reuse and more."
In addition to the programming, there was ample time to visit exhibitors during breaks, lunch and the welcome reception. The exhibitors included AquiSense Technologies, Enaqua, Evoqua Water Technologies, Fluidquip Australia Pty Ltd, Hergy Lighting Technology Corp., Klaran by Asahi Kasei, Nedap, Seoul Viosys, SleipnirLED Co., Ltd., and Xylem.
The 2019 IUVA World Congress gala dinner took place Tuesday evening at the Crowne Plaza Coogee Hotel. With nearly 200 guests, the dinner featured the biennial award presentations, hosted by Lawal. Award winners included:
Best Conference Paper 2017-18: Kevin Kahn, from Crystal IS, for his paper: "Designing with UV-C LEDs for Medical Applications," at the 2018 UV LED ICULTA conference – a partnership between IUVA and the Berlin-based Advanced UV of Life Consortium.
Best Research Paper 2017-18: "Impacts of chloramines on UV photolysis of hydrogen peroxide: removal of trace organic contaminants for potable reuse," published in Environmental Science & Technology in 2018, by Professors Samuel Patton and Haizhou Liu, University of California; Mariano Romano and Vincenzo Naddeo, University of Salerno; and Kenneth Ishida, Orange County Water District.
Best IUVA News Article 2017-18: "UV-C LED Devices and Systems: Current and Future State," by Oliver Lawal, Jennifer Pagan and Jim Cosman, Quarter 1, 2018.
UV Product Innovation: Professor Mengkai Li, associate professor, Chinese Academy of Sciences in Beijing, who invented the Micro-Fluorescent Silica Detector (MFSD), the first true fluence rate photo-electric UV detector with broad applications in the UV field.
UV Engineering Project of the Year: The City of Los Angeles, California, Sanitation – Terminal Island Expansion – the first utility in the world to implement the combination of UV and sodium hypochlorite, fulfilling the stringent California treatment regulations. This new UV AOP system received official permitting in May 2018.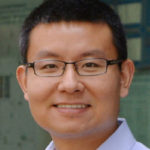 UV Young Professional Award: Haizhou Liu, University of California, Riverside. This award recognizes a young professional (under the age of 35 through 2018) who has made an exceptional contribution to UV research, design, innovation or applications in the last two years. Dr. Liu was nominated by Megan Plumlee, Orange County Water District in California.
The UV Light Award for Volunteer Recognition: Professor Kumiko Oguma, University of Tokyo. This award recognizes a dedicated volunteer working to support the mission of IUVA. Dr. Oguma served as technical chair for the 2019 World Congress. She is the IUVA board vice president of Asia and is a member of the IUVA executive operating committee.
The IUVA Lifetime Achievement Award went to Joop Kruithof, for his professional dedication and lifetime achievement in promoting UV and the mission of the IUVA. Tonnie Telgenhof, Oude Koehorst and Ton van Remmen, from the Netherlands, paid tribute and read a special message from Joop, as he could not be in attendance. Through his work with IUVA, Dr. Kruithof has made a substantial impact on the water research communities in Europe, Asia and the US. He volunteered to help organize and lead IUVA technical world congresses in London and Amsterdam and served as an active member of the board of directors. Last year he was honored by IUVA for his contributions and named an "ex officio" IUVA board member – only the second time the group has offered such recognition.